This past Friday, I was incredibly honored to have received an Honorable Mention in the Spring 2020 Flash Fiction Contest held by WOW! Women on Writing. My story "Meeting Robert" met some success; what a way to start my weekend!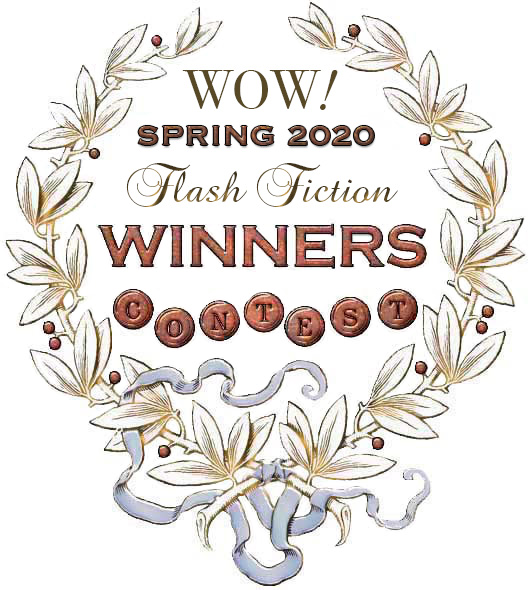 It's even more gratifying that I had entered this contest before, back in 2018, I believe. I had received notification that I was a finalist but ended up not advancing to the contest winners. Since it wasn't my first rejection (or silence, which is de facto rejection), I archived the contest winners announcement email and moved on with life and continuing to try. I try despite knowing I have peers who are traditionally published authors, who have sold screenplays, who have done [insert this thing I haven't done yet but am weaponizing against myself as a time-bound measure of success because no matter how many encouraging "to each their own time" Instagram posts I've read I haven't truly internalized being happy for myself and others yet la la la…]
To be truthful, I hadn't entered another contest until later this spring, when I had nowhere to go during quarantine and therefore some time to write. It's not that I hadn't written in between these two WOW! contest entries, as this blog can vouch for me :). But I was simply afraid to enter another contest and face another rejection, even though realistically, I'm not alone in this fight to write and love it despite the self-doubt that comes with it. What I did in this case was to reframe the contest into an accountability mechanism for myself: I believe I had improved my craft in the interim, so I would put that to a test by finishing a piece and letting it fly.
I think another thing that worked this time was that I wasn't afraid to let a (trusted) friend read it and really constructively critique it. When they asked me questions about what a sentence was supposed to mean, or even whether I could split a long sentence because they didn't understand it, it opened my eyes as to the "vacuum of just me" I was writing in for a while. (That sentence just now? I probably could've broken it up too…!) At times I caught myself being defensive and wondering "but this is understandable to me!" But writing is meant to be read and understood by others, so I coached myself to stay open when I wanted to close myself off. It also helped to remember that it would've been disrespectful to my friend taking the time to give me quality feedback. (If someone makes general statements, then you probably want to look for productive critique elsewhere.)
With all that said, I'm sharing my flash piece "Meeting Robert" below. As I didn't place in the top 10 but in the top 20, my story wasn't published on the WOW! site. Cracking the top 10 is my next goal…!
---
"I feel like a kid again, but not in a good way." Catherine closed her eyes and laid her phone back down on the coffee table. Her first instinct was to beeline for the fridge and grab the bottle of wine, received from her company's holiday party two months ago but untouched since. Every year, she wished she could ask her dad what he thought of the brand, so they could admire it or joke about how her company was cheap. Truthfully though, alcohol wasn't her coping mechanism of choice, but maybe taking a swig would make her feel like an adult again. She resisted only because Nick stood up with his arms outstretched, waiting for her. It reminded her that some things would not change, not yet anyway.
He enveloped her, and she wiggled her chin in her usual spot, the inviting dip between his neck and clavicle bone. "Oh, there were good things about being a kid? Of course not." Nick's chuckle reverberated through his body. "Joking. Did it work? Nope, sorry."
Nick leaned away so he could read her instead of answering himself again. When they'd first met in their high school algebra II class, Catherine couldn't stand this quirk of his: Did you get the bonus question right? I bet you did 'cause you always do. Are you going to the pep really later? Nah, lame, right?
Eventually, she understood it wasn't that Nick was rude or had ADHD. He liked her. She hadn't believed it, but her dad had called it. He was right, as usual. More surprisingly, he didn't go all tiger dad on the development.
She finally let go of Nick, and they both sat down, eyeing her phone. A preview of a follow-up message from her mom glowed. No doubt the name of Houston's new dim sum restaurant she'd just invited all of them to eat together at, including Robert. She'd timed it well: Catherine and Nick were driving back to Houston from Austin for the long holiday weekend. Robert had said it would be his treat.
Of the hundreds, maybe thousands, of restaurant guests her mother had waited on since Catherine's father passed unexpectedly when she was in high school, Robert had managed to become something more. An old anxiety gripped at Catherine's chest. Who's to say that Robert was the only one? Had her mother had dates—or god forbid—dalliances with other men who had "wavy, coffee hair" and love "all kinds of barbecue, especially Korean?" At that point in the call earlier, Catherine's filter had broken, and she barked that Robert must've forgotten they were Chinese.
Catherine would ask herself these kinds of questions to get through all-nighters in college, masochistic as it was. They'd kickstart her motivation again when it'd waned. They'd be enough to get her through a paper, an internship application, another student event to organize—gold stars to bring back to stick on mom's fridge. Would they be enough to distract her mother from needing someone else?
"Cat." Nick's hand on her knee finally registered. "Think of it this way. It's just one meal. We can go on Monday, the last day we're in town. And we can head back right after. I'll let you sing from the bad pop song list. We'll get the unhealthiest snacks from Buc-ee's."
"Do I have another choice?" Catherine locked her gaze on Nick, but found her vision clouding. She would not cry about Robert.
Nick struggled with whether to keep talking it out with her. He didn't continue. He'd let her answer for herself. Of all the times to do so.
"Traitor!" She thought. Her dad had trusted her around Nick, a precious blessing. Now Nick forgot that this made him special and kept pushing her along to the inevitable future. Where she needed but didn't want to be. "It's like you don't even consider my dad."
Catherine thought she'd only been thinking the words. They struck Nick, and he returned with his own. "Have you considered that I was considering your mom? How long has it been, ten years?"
It would hurt less if there was malice, or even judgment, in his voice.
This time, he continued. "Meeting Robert doesn't erase your dad. Not unless you do. That's the real choice, right?"
"Right. Okay." Catherine reached for her phone.
---
Also published on Medium.